Latest X algorithm changes and updates
Understand the latest Twitter algorithm changes and updates, and how to optimize your content for maximum reach. Key updates: prioritize quality over quantity, post longer-form threads and videos, build engagement with followers, actively reply, discuss your unique value, align with trending topics, use visual media. Learn the top actions to boost your tweets and common mistakes to avoid.
The recent algorithm changes by Twitter, now under new ownership by Elon Musk, have significant implications for content creators and marketers looking to effectively reach their audience on the platform. Understanding the latest Twitter algorithm updates and how they impact tweet visibility is crucial.
These new X algorithm changes mark a shift in how the platform surfaces content, reflecting Elon Musk's stated goals for Twitter under his leadership. The adjustments aim to prioritize quality, weed out spam, and incentivize more meaningful engagement between users.
For anyone looking to build their audience and thrive on Twitter in 2023, staying on top of the platform's evolving algorithm is key. Read on for a comprehensive look at the latest X algorithm changes and how to align your strategy with these updates to Twitter's code.
The summary covers actionable insights on the recent algorithm tweaks and how to create optimized, engaging content that will resonate in this new era of the platform.
Keep these fresh X algorithm changes in mind to ensure your tweets get maximum visibility and reach the right users.
TLDR; X algorithm changes and Updates
Twitter is now boosting content that drives engagement, discusses trending topics, uses rich visual media, and comes from creators with subscriptions. It is deboosting content that focuses on competitors, doesn't connect with your core audience, or includes retweets with added comments from you. Keep these key factors in mind when optimizing your Twitter strategy
What's Boosted on X :
Trending & popular topics
Rich media - images, videos, GIFs
Well-performing tweets (48 hours)
Subscription-eligible creators
What's De-boosted on X:
Competitor mentions, URLs
Content not resonating with followers
Retweets you've commented on
Two tools to help you with this :
Tweethunter lets you build customized feeds featuring only the original tweets from any account, without all their retweets, replies, and other noise. It's like Twitter lists, but actually useful.
Example : This is an actual list with high number of likes that you can comment on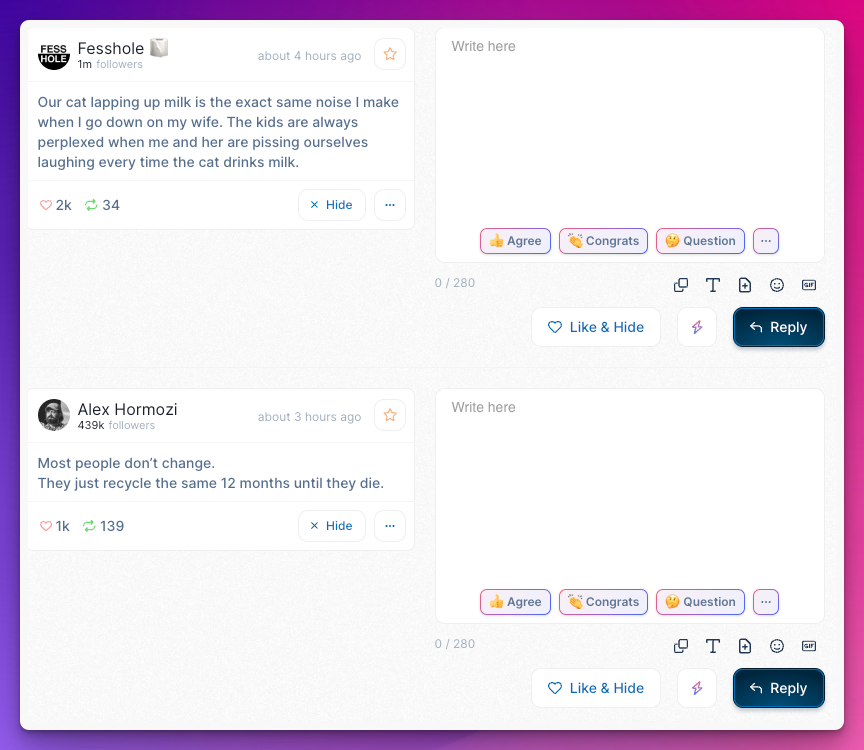 Hypefury
supercharges your Twitter strategy by letting you create a custom feed tailored to the users and topics you care about most. Easily build a feed from specific accounts or keywords to uncover trending tweets, rising conversations, and growth opportunities the moment they happen.
Also focus on…
1. Quality over quantity
Action item: Provide value, info, entertainment in tweets What to avoid: Repetitive, low-value content
2. Longer content preferred
Action item: Post longer threads, 2-3 min videos What to avoid: One-line tweets, short posts
3. Follower engagement amplifies reach
Action item: Build genuine engagement What to avoid: Prioritizing reach over engagement
4. Replying boosts reach
Action item: Thoughtful reply conversations What to avoid: Not interacting with audience
5. Avoid mentioning competitors
Action item: Discuss unique value
What to avoid: Excessively referencing competitors
6. Trending topics boosted
Action item: Align with trending topics, hashtags What to avoid: Obscure, low engagement topics
7. Rich media boosted
Action item: Photos, GIFs, short videos What to avoid: Text-only tweets
Here is a detailed list for the changes
Quality over quantity
X is now prioritizing high-quality tweets that provide value, information, entertainment, or engagement to users. Tweets with repetitive, promotional, or low-value content will be deboosted in the algorithm and reach fewer users. To boost reach, ensure your tweets offer insightful commentary, useful resources, unique perspectives, or compelling visual content. Post less frequently if needed to maintain quality.
Action item: Ensure tweets provide value, info, entertainment or engagement
What to avoid: Repetitive, promotional or low-value content
Longer form content preferred
X now favors longer, more in-depth tweets and threads that keep users engaged on the platform. One-line tweets or short posts without much substance often get lower reach. Post longer threads diving deep into a topic, share your insightful takes, tell a story across multiple tweets, or post video clips up to 2-3 minutes long. Providing richer content will increase the time users spend engaging with your profile.
Action item: Post longer threads and 2-3 minute videos
What to avoid: One-line tweets or short posts without substance
Engagement by followers amplifies reach
For your tweets to reach new users through the algorithmic feed, X now requires more evidence that your existing followers find your content valuable. Tweets that receive likes, retweets, and replies from your current audience are much more likely to be amplified by the algorithm. Focus on building genuine engagement with the followers you have before trying to expand your reach.
Action item: Build genuine engagement with your existing followers
What to avoid: Focusing on reach before engagement
Replying boosts reach
By directly replying to user comments and queries under your tweets, you signal that you are invested in two-way conversation on the platform. This boosts reach as users appreciate creators who interact. Make sure to set aside time to have discussions via reply threads. Thoughtful author replies carry even more weight.
Action item: Set aside time for thoughtful discussions via reply threads
What to avoid: Posting without interacting with your audience
Avoid mentioning competitors
Directly referencing or linking to competitor accounts or content can lead to X deprioritizing your tweet to limit "out-of-network" promotion. While reasonable competition is expected, excessively mentioning rivals may be seen as hostile behavior. For maximum reach, discuss your own unique value proposition.
Action item: Discuss your own unique value proposition
What to avoid: Excessively referencing or linking to competitors
Trending/popular topics boosted
When posting, check what topics and hashtags are currently popular or trending in your niche. Crafting content related to subjects already seeing high engagement can help put your tweets in front of those active users. Aligning with trending conversations taps into what people are most interested in at the moment.
Action item: Align content with currently trending topics and hashtags
What to avoid: Posting about obscure topics with low engagement
Rich media boosted
Visually appealing tweets now significantly outperform plain text posts. Include relevant high-quality photos, infographics, videos under 2-3 minutes, and short animated GIFs to attract attention. Visual content keeps users engaged on X longer. Ensure accessibility with text descriptions of imagery.
Action item: Use relevant visuals like photos, GIFs, and short videos
What to avoid: Text-only tweets
Well, it happened - X popped the hood and tinkered under the algorithm's chassis. Say what you will about Head Honcho Elon, but these engine tweaks signal X is looking to cruise into 2023 with more quality rides onboard.
So buckle up, because the traffic patterns are shifting. To floor it on X moving forward, focus on serving up premium content, turning up conversations, and keeping your aesthetic engine revving with sweet visual media. Lean into trends without veering out of your lane. And don't forget to check the rearview for your core audience - lose sight of them and your journey gets bumpy.
X will keep evolving, but the destination stays the same - meaningful connections through quality joyrides. So grab the algorithm by the steering wheel by providing value, engaging with audiences, and bringing your A-game creative. Do that, and X will keep cruising smoothly towards its highest gear. Just remember to enjoy the ride - and keep an eye out for more hairpin turns ahead!